We often get calls and emails from past clients who have received letters like this one: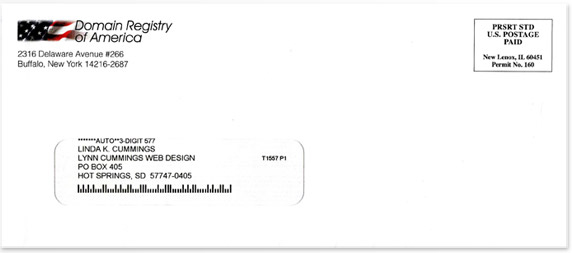 While it may look "official", it's not legit. Domain Registry of America intends for this to look like an invoice, in an effort to trick you into transferring your domain name to them. They're relying on 2 things:
1) That you don't remember (or don't know) who your domain registrar is and will just assume it's them.
2) That you'll panic and act quickly, convinced that you're about to lose your domain name otherwise.
Rest assured that your legitimate domain registrar will contact you by email several weeks prior to the date when your domain is due to expire, with instructions for renewal. And if they should neglect to do that, we keep track of the expiration date of each client's domain name, and we promise to remind you one month before yours expires.
Our preferred registrar is gkg.net. We've found them to be honest, reliable and reasonably priced. If you're thinking about a web site and don't know how to register a domain name, it's part of the service we provide to all clients.
Take that, Domain Registry of America.